HELP
USMLEWORKOUT CalcMaster
Welcome to the USMLEWORKOUT CalcMaster. Please take the following steps to start your examination practice.
Select the no of questions in your test from 1-48
Select the test mode eigher with or without explanations
Select if you would like your test timed or not
Skip the following section

Scroll down the the section titled "questions from selected categrories" and click the question categories you wish to be tested on. It is smart to start one category master it and then go on to the next category until you have masterd all categories and are ready for the actual USMLE exam.
Alternatively you could select what subject you wish to be tested on from the section below and ignore the "question from selected categories section: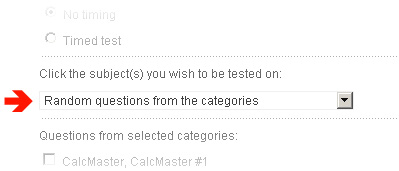 By clicking on the statistics section you will be able to monitor your progress. Your last 50 tests will be displayed. You can also see your scores and progress in the different subjects.
If you have any questions please feel free to email us on info@usmleworkout.com and a member of our staff will be of assistance very soon.
Would you like to try out USMLEWorkout© CalcMaster© before subscribe?